NEWS
Surprise 'Breaking Dawn' First Look to Air During Red Carpet of MTV Movie Awards!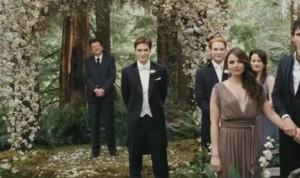 Take a moment to thank MTV, Twi-hards. Not only is the network airing an exclusive clip from The Twilight Saga: Breaking Dawn's wedding scene, but now they have announced there will be another exclusive Twilight first look during the red carpet! We can't wait!
OK! VIDEO: WATCH BREAKING DAWN WEDDING SCENE SNEAK PEEK FROM MTV MOVIE AWARDS!
Breaking Dawn stars Elizabeth Reaser and Jackson Rathbone shared three clues about the exclusive red-carpet clip that will be revealed between 7:30 and 9 p.m. ET on MTV.
Article continues below advertisement
Focus, Twi-hards! We need to figure this out!
"Is it possible that there was a butterfly involved? Did I give it away? Or I might have just hallucinated that," Elizabeth told MTV News. "I would assume that there would be some lavender involved — lavender and or purple — however you want to describe that. And it is the most coveted invite in town."
"If you tune in to the MTV Movie Awards this Sunday, you're going to see something ultra-special at the red carpet," Jackson explained. "That's right, something you've been waiting years for, and we're really excited to show it to you, so make sure you tune in."