NEWS
Susan Boyle to Bring Talent to America?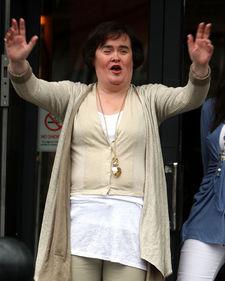 It's a long, long way from West Lothian in Scotland: Susan Boyle, a worldwide singing phenomenon after appearing on Britain's Got Talent, may make the trek over to the U.S. to appear on the American version of the NBC talent show.
America's Got Talent judge Piers Morgan spoke with reporters today and said SuBo is welcome anytime on this side of the pond.
"If she's up for it and she is well enough," says Piers, "our feeling is she probably will appear on AGT. Absolutely!"
Article continues below advertisement
She'll need some time to rest up, most likely, as she's been hospitalized for exhaustion and has had to postpone to gigs on the British tour since finishing second. But Piers says Simon Cowell, who is a producer for both BGT and AGT, wants her on American soil.
"Susan singing live to 25 million Americans? That would be great!" Piers exclaimed, adding that, "she still gets a bit tired sometimes, but she is 48."
Ah, yes, 48 is apparently the new 84.
Come on over, Susan!