NEWS
'Susan Boyle: Dreams Can Come True' Coming to Bookstores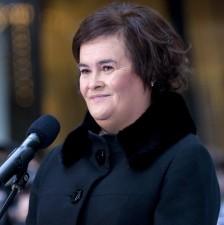 A Susan Boyle biography titled Susan Boyle: Dreams Can Come True is headed to bookstores near you! Now the story about the life behind the voice that's an inspiration to so many will be told.
After stunning judges Piers Morgan and Simon Cowell on Britain's Got Talent and becoming an overnight household name less than a year ago, Susan gave hope to the world that dreams actually can come true — with the help of reality TV.
Article continues below advertisement
Her album I Dreamed a Dream is the biggest female debut album of all time and has already sold up to 6 million copies.
Now for the first time, the life behind the singer will be told by biographer Alice Montgomery who charted Susan's life in careful detail and outlined the setbacks and triumphs that led to her worldwide celebrity.
The Overlook Press will publish 150,000 copies in the first printing of Susan Boyle: Dreams Can Come True on Feb. 2 for $21.95 in hardcover.