NEWS
Susan Boyle Feeling the Pressure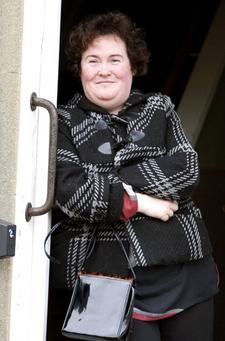 The pressure of competing in the Britain's Got Talent finals just might be getting to fan favorite Susan Boyle – a report in The Daily Mail says the singer dropped a few F-bombs in front of a hotel bar full of people after judge Piers Morgan complimented another contestant.
Piers told 12-year-old contestant, Shaheen Jafargholi his performance was "the best in the semi-finals so far," causing Susan to allegedly stick two fingers up at the TV and shout, "F*** off", before storming back to her room.
Article continues below advertisement
A spokesman for Susan tells the Mail that perhaps it was the pressures of her new-found fame that caused Boyle to boil over.
Another incident earlier that day had the Scotswoman getting upset outside London's Wembley Plaza Hotel in another apparent potty-mouthed tirade. Reports said local police were involved; however, Susan's rep says that was just a coincidence.
"The police were escorting a journalist from the premises who had been winding Susan up. Susan and her sister were talking to the police telling them what had happened."
The finale is Saturday, where SuBo will be up against nine other contestants for the BGT crown.