NEWS
Susan Boyle Hospitalized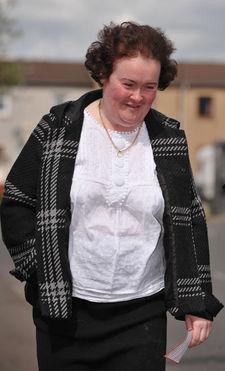 The rise and fall of middle-aged British singing sensation Susan Boyle is the stuff that movies are made of. Except, if it had been a movie, SuBo would have been victorious on this weekend's finale of Britain's Got Talent. Instead, she came in a disappointing second place — and has reportedly landed herself in a private hospital.
According to <a href="http://www.popeater.com/music/article/susan-boyle-rushed-to-hospital/505619" target="_blank">reports</a>, Susan suffered some sort of emotional breakdown following her defeat on Saturday's BGT finale.
Article continues below advertisement
The story claims that the singer, who became a media sensation only weeks ago when she was discovered on the Internet, voluntarily checked into The Priory, a private clinic in London.
"She agreed to go voluntarily," the story quotes one source as saying. "She didn't make a fuss. The paramedics calmly took her out through the main lobby and into the waiting ambulance."