NEWS
Susan Boyle Not Fazed by All the Punchlines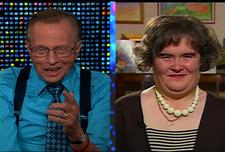 Susan Boyle, the aspiring singer who has become the hottest thing to hit the internet next to Lindsay Lohan's e-Harmony ad, had to jump through quite a few hoops before making the big time.
True, she astounded the likes of Simon Cowell on England's Britain's Got Talent with her vocal stylings. But prior to her performance, the judges and audience made no attempt to hide their snickering as they openly made fun of the 47-year-old's appearance on stage.
Article continues below advertisement
It's fair now to say that Boyle showed them, but what was she thinking up there as she faced a sea of judgement?
"It didn't bother me at all," Boyle told Larry King on Larry King Live Friday night. "I just got on with my act because that's what you're there for, to keep going."
Britain's Got Talent judge, Piers Morgan, says it's Susan's confidence that really sets her apart. "I think she's got an amazing spirit and determination," he told King. "I think that Susan had an absolute confidence in her ability as a singer so she didn't really care that people were laughing or not laughing. I think she was more focused on the fact that she had her chance, a shot. It was almost like the Rocky Balboa script. Coming out of nowhere and you get a shot, you take it, and suddenly you're the world's champion."
Susan tells King she's taken "a few singing lessons" for two years. When asked why she chose the song "I Dreamed a Dream" from the Broadway smash Les Miserables, she said, "I sang that song because it fit within the circumstances of the particular time. It was the way I was feeling at the time, it sort of summed up what I was aiming for."