NEWS
Susan Boyle Shares Screen Time with Ashton Kutcher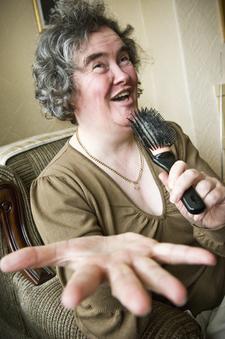 Talk about going from zero to 60! Aspiring singer and now YouTube sensation Susan Boyle wowed the judges on England's Britain's Got Talent.
Her defining performance of Les Miserables' "I Dreamed a Dream" has now made her a household name, and no better evidence of that is her appearance on tonight's broadcast of Larry King Live.
Boyle will be sharing screen time with Ashton Kutcher, as she talks to Larry King via satellite from her native Scotland. Ashton will be on the show discussing his Twitter challenge with CNN, in which he beat the news network to 1 million followers.
Article continues below advertisement
For those of you who missed it, check out Susan Boyle's brilliant performance!
And for fans who just can't get enough of Susan's amazing voice, see below for her performance of "Cry Me a River" for a local paper's charity CD in 1999.
<object width="425" height="344"><param name="movie" value="https://www.youtube.com/v/jI2DxkrgpgQ&color1=0xb1b1b1&color2=0xcfcfcf&hl=en&feature=player_embedded&fs=1"></param><param name="allowFullScreen" value="true"></param><embed src="https://www.youtube.com/v/jI2DxkrgpgQ&color1=0xb1b1b1&color2=0xcfcfcf&hl=en&feature=player_embedded&fs=1" type="application/x-shockwave-flash" allowfullscreen="true" width="425" height="344"></embed></object>