NEWS
Susan Boyle Worried for Career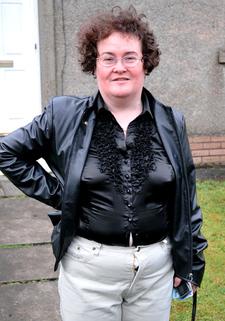 As Susan Boyle continues to recover from the intense pressure of performing on Britain's Got Talent, and coming in second to dance troupe Diversity, her brother Gerry Boyle is speaking out about her worries for the future.
"Would you believe her biggest worry after Saturday night is, 'Where does her career go from here?'" he told CBS's Early Show. "Will she be still accepted? She didn't win the competition. Will people still want to hear her sing? And will there be a career for her as we stand here today?"
Article continues below advertisement
As for her nerves and overall health, which sent her to a clinic the day after the competition ended, Gerry says she's on the road to recovery.
"Susan seems to be coming back to her old ways. I mean, she's fine. She's anxious to come home, and she's sounding a bit more like herself... I'm pleased to say," he reveals. "Eager to come home to Scotland from London, and just, you know, she seems to be on the way back, which is marvelous."
While it's still unsure exactly what caused Susan to check into the hospital, her brother thinks the intensity of the competition affected his sister's health.
"I think anxieties were high," he exlains. "I think, you know, seven weeks of, you know, not pressure, but certainly media-intensified attention. You know, someone who's used to the media would find that difficult. And I think eventually exhaustion, worrying about the outcome of the competition and anxiety just took its toll."
Hopefully SuBo is resting up to prepare for her future singing career — we know she's got it in her!