NEWS
Susan Boyle's Album Sells 701,000 Copies to Debut at No. 1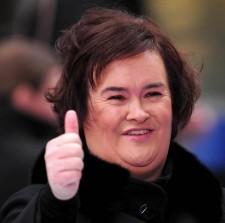 Susan Boyle dreamed a dream — and it came true! The lovable spinster, who became a YouTube sensation after appearing on Britain's Got Talent, has sold more albums in one week than any other artist this year.
The Scottish singer's debut album I Dreamed a Dream opened at No. 1 on the Billboard 200 albums chart after selling 701,000 copies in its first week. According to Nielsen SoundScan, it's the best sales week for an album in the U.S. this year.
Article continues below advertisement
Eminem came closest to the never-been-kissed crooner, selling 608,000 copies of Relapse in its first week in May, but the last record to beat SuBo's numbers was AC/DC's Black Ice, which moved 784,000 CDs in October 2008.
Meanwhile, other — more-hyped — reality singing stars are trailing far behind. Adam Lambert's debut For Your Entertainment debuted at No. 3 on the Billboard 200 with 198,000 copies.
And last week, American Idol champ Kris Allen saw his self-titled debut bow at No. 11 with 80,000.