NEWS
Susan Boyle's Makeover a "Collective Decision"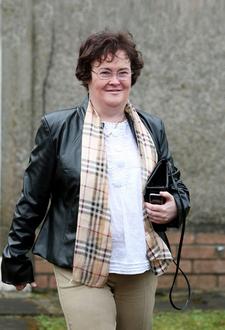 Susan Boyle has already wowed people around the world with her performance from Britain's Got Talent, and now the Scotland native has a new look to go with her newfound fame!
Caroline Boyle (no relation) of Miss Toner's salon in Blackburn tells Entertainment Tonight that her freshly dyed chestnut 'do was the result of a "collective decision" among Susan, her family and and the hair stylist.
"We decided that to change her a lot was not a good idea – you know she's charming as she is – so we just trimmed it a little and put a little color in, to take away the gray," she explains.
Article continues below advertisement
Negative attention aimed at Susan's appearance prompted the change, as Caroline says, "I think the papers like to sell papers, so they say some horrible things, but it's not nice for Susan's family to read those kinds of things, so I think that's why she had a wee, mini makeover – just to make her look her best, rather than change her."
The singer's time in the salon was a relaxing experience, surely a nice respite after the the recent whirlwind of publicity.
"She was very relaxed and she commented that that was the most relaxed she had felt in a few days, so she just sat in the chair and enjoyed the chat, and enjoyed the wee transformation," reports Caroline, who adds that the locals are "blown away" by Susan's fame, commenting, "I don't think there was a dry eye in Scotland when she sang."
She hasn't burst into song in the salon as of yet, says Caroline, but "I think we might ask her the next time she's in!"