NEWS
Susan Sarandon Talks Plastic Surgery, Table Tennis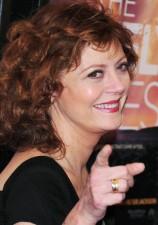 Susan Sarandon is in remarkable spirits when we meet during The Lovely Bones special screening held Wednesday at NYC's Paris Theatre.
The Oscar-winning actress, 63, greets onscreen granddaughter Saoirse Ronan with a hug.
"Susan looks pretty damn great," the 15-year-old star compliments.
Indeed, the mom of three looks fantastic. While Susan doesn't spill all her secrets, she isn't opposed to plastic surgery.
Article continues below advertisement
"I'm an advocate of women doing whatever they want to do for themselves," the actress, who has been dating Tim Robbins since 1988, says. "Women should have control over their bodies to do whatever they want to do. Some people have better taste than others, and some people get crazy about it."
One way the Alexander Wang-clad star stays fit is by playing ping-pong at her table tennis club Spin New York, which opened in September.
Why table tennis?
"I love the whole idea that it crosses all gender and age barriers," she tells me. "You can have little girls beating muscley 35-year-old men. And you can play it until you die. We have members that are really, really good that are in their 80s, and little tiny seven-year-olds that come in and kill everybody. It's one of the few sports I can think of where girls and boys and men and women are on the same plane. We have a tournament every Friday between the top club players, and it's been won three times by a woman now. They play for money, so they play really hard."
Article continues below advertisement
She continues, " I love that about it, and I love the fact that you can't get hurt. I love the fact that it's fast, and fun."
She's honest about her own sills.
"I'm not good," Susan tells me. "I'm more of a ping-pong propagandist than a ping-pong player. I like to make the atmosphere for people to play, and at our club, at Spin, it's an incredibly eclectic audience that's there – all kinds of people. They're there in the afternoon, they're there at night, and sometimes it turns into a heavy club and sometimes it's really serious ping-pong players. We've been very lucky."
Who's her dream match?
"I'm not very competitive, but I'd like to see George Clooney play Jamie Foxx because they both think they're really good. And Ed Norton, because he's really good. The firefighters are going to start a league at our club now, and I'd like to get them to play the police."
She continues, "But that's the great thing about ping-pong. It's not like basketball or football where if you're stuck, you know it right away. You just think you're really good until you play someone who's really, really good, and then – I'd like to see them."