NEWS
Swagging at the Emmy's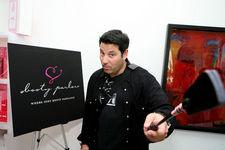 Today's the last day of the Toronto Film Festival. The tents that housed the shows for New York Fashion Week are being taken down and even talk about the VMAs have become stale. In LA celebs are swagging as they gear up for the Emmy Awards on Sunday. At the Kari Feinstein Lounge my spy witness saw downing a vitaminenergy drink, sans Entourage and Heroes star and his wife picking up 'Booty Parlor' products like an Intimacy Lovekit, Turn Me On Vibrating Panties and Melt Chocolate Body Fondue. Also hear that while Greg was playing with Booty Parlor's Good Girl/ Bad Girl Whipper Tickler, he remarked, "Every 'hero' needs one of these to keep their wife happy!" Hmm.
Article continues below advertisement
Me, I'm currently debating the gym or a drink after work and looking forward to a relaxing weekend in NYC.