NEWS
Swizz Beatz on Wedding: It's Not This Weekend, But It's Soon!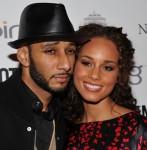 Although rumors are spreading that Swizz Beatz and his pregnant fiancée Alicia Keys are getting married this weekend, the singer tells OK! it's not this weekend, but it's soon!
OK! GALLERY: ALICIA KEYS KEEPS SINGING WITH HER BABY KICKING
Swizz Beatz spoke to OK! at the New Music Seminar in NYC on Wednesday and not only cleared up the wedding bell rumors, but shared some wedding details as well!
Swizz Beatz is currently hard at work on his music with a very talented group of people.
Article continues below advertisement
"I'm working on my album which is super incredible," he tells OK!. "Got everybody on there from Jay-Z to John Legend to Mary J. Blige to Drake. Super amazing album. I'm also working on Lenny Kravitz new album, working with Cold Play."
And of course he's future wife, Alicia!
"When you're in album mode and you're in producing mode, working with any great artist you have fun and try to create the best music you can create."
Alicia isn't featured on just one song, Swizz Beatz will be picking his favorite.
"On one song she just played keys on," he explains. "I dont know, cause I dont know which one I'm going to use. I have a few songs."
But he still has some time to figure it out.
"I'm probably going to drop my single with Mary before the summer is over," he tells OK!. "I'm shooting for that and I'm looking for fall to be Swizz Beatz mania."
Article continues below advertisement
OK! NEWS: ALICIA KEYS' ENGAGED & PREGNANT!
"The rest of my summer plans are just to work hard and just keep pushing the limits from art and philanthropic work and spending time with my kids and maintaining positive things," he adds and of course looking forward to having his new baby with Alicia!
"I'm very excited about that!" Swizz Beatz exclaims to OK!. "Children, you know, they're a blessing and I'm very excited."
And his older children feel the same way.
"They're excited as well. We keep the energy positive. Everything surrounding kids should always be positive. That's the number one rule."
What kind of mom does Swizz Beatz think Alicia will be?
"I think she's going to be an amazing mom because she's an amazing person," he says. "If youre an amazing person, it all equals the same thing."
Article continues below advertisement
Along with the baby, Swizz Beatz and Alicia have a wedding coming up to look forward.
"Well its not this weekend!" Swizz Beatz says. "But you know, were excited. Our union is amazing. Our union is pure. Our union is positive no matter what people say or what people think, time will tell everything and you know, silence is the best thing. We just keep it private and we do our thing and just have fun with it."
And Swizz Beatz says he is helping with the wedding planning.
"Yeah, you know, I'm a planner!" he tells OK!. "I like getting into the detail of things. I'm inspired by fashion, I'm inspired by art, I'm inspired by architectural things so I like being involved with the wedding. I'm not the person who sits back and goes, okay, well I'll just show up. I'm actually spearheading certain plans but it's a nice blend, a nice partnership."
Article continues below advertisement
What kind of day he is planning?
"Just an amazing day," he says. "Very intimate. It's not a superstar wedding. It's not a gimmicky wedding. It's a true bond of love, you know, that's not based on having the most famous person sitting there while you're doing it. It's about having the closest people who really understand you as a person and that really have love for you. So it's a small situation."
Does he know where the wedding will be yet?
"Yeah I know where! Of course I know where," he tells OK! "It's soon!"
But not this weekend?
"Not this weekend," he confirms.
Reporting By Laura Lane