NEWS
SXSW Scoop!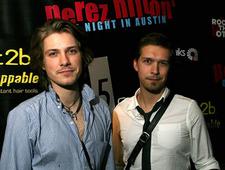 At "One Night In Austin" party thrown by 5 GUM and Perez Hilton (who was seen having dinner with Carson Daly and chatting over cheese burgers at the EastSport Cafe), everyone from Pharrell, who performed with his band N.E.R.D. to Joe Simpson (without either one of his pop star daughters) and even Hanson showed up and rocked out to Robyn, indie darlings Vampire Weekend and Cisco Adler's new band Schwayze.
Article continues below advertisement
Josh Kelley, who recently wed Katherine Heigl and the pics were featured in OK!, flew to Austin for the Men's Vogue and Cole Haan party crooning to a packed Austin crowd. The singer reports he's currently going on tour with Collective Soul and starting some new hip hop collaborations with a few artists. Hip hop, huh? Very interesting... Also at the party the cast members of Friday Night Lights were seen drinking Barefoot wine all night. Yummy!