NEWS
Syesha: The Movie!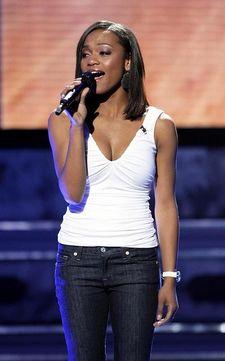 Syesha Mercado's microphone has barely had time to cool down after her farewell performance, but she's already planning to make the movie of her life!
There isn't much that the singer and workaholic doesn't want to do (record an album, star on Broadway, and open an organic restaurant to name a few).
But she's seems particularly excited about starring in her own biopic -- her version of Tina Turner's What's Love Got To Do With It?, or Johnny Cash's Walk The Line.
Article continues below advertisement
Today Syesha told OK! that finishing third on Idol has ended a very hard chapter in her life that started when she was a little girl, and that now she's ready to share her story with the world.
When she was growing up, Syesha's father, Jose, battled drug and alcohol addiction which he is only just coming to terms with, and there have been reports that both her parents have served time in jail. And by the sounds of it, there is a lot more still to tell.
At her try-out for American Idol, the 21-year-old, from Sarasota, Fl., told the cameras that Jose had recently graduated rehab and that good things were happening in her life, "one after another after another."
Today, after being voted into third place in American Idol, she told us that the hard times are well and truly behind her.
"I think every family has a struggle," she said. "And the reason that I even brought up my struggle at my first audition is that my past doesn't determine who I am and I don't feel shameful about tell an encouraging, uplifting story to people.
Article continues below advertisement
"Everybody is going to find out eventually my story -- and some people are going to get the story wrong. And it's already has been gotten wrong a lot.
"People are like, 'oh, you're homeless,' and I'm like, 'What are you talking about?'
"Ask me what my story is!
"One day I'll be able to maybe star in my movie or write a book about it, but I know that that chapter is over with."
Syesha also said that while she felt like a "little sister and a big sister to both David's" she had struggled to compete with them for attention, at least in public.
"People would be like, 'Oh my God! David Cook I love you so much!,' and they'd be like, 'Syesha, Syesha! Could you tap David on the shoulder and get him for me?'. It was that kind of relationship!"
But despite the adulation, said that the first time she felt sure that she would not be in the final was on Tuesday night, because she felt that nobody could survive as much harsh criticism from the judges at such a late stage as she had recieved that evening.
Article continues below advertisement
Syesha told reporters that she coped with being in the Bottom Three or Bottom Two for five weeks by staying determined and by not dwelling on the past.
"Every week is new," she said. "I never packed my bags. They told us to pack our bags, and I was like, 'I'm not packing my bags -- I'm not ready to go home yet!'
"I think if you want something, it's going to happen to you."
Looking forward to her career, Syesha said that she sees herself as like a "black Christina Aguilera" and that she would love to star on Broadway in a musical like the Color Purple.
The former student added that, right now, she is focussed on her career and has no immediate plans to marry her fiance.
But she better not wait too long, though -- she'll need an emotional wedding scene for the movie!