NEWS
Syesha's Second Shot at Song!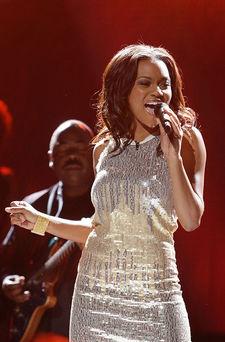 Every week, hardcore Idol fans scour the Internet trying to find out what the contestants will be singing ahead of time.
But here's a first: this week you can actually watch a video of Syesha Mercado performing her song before the show comes on air!
It turns out that the song that Randy Jackson has chosen for Syesha to perform tonight just happens to be one that she has already performed on a national TV singing contest.
Article continues below advertisement
This week, one of each contestant's songs is chosen by producers, one by judge and one by the contestant themselves, and Randy has told Syesha that she will be singing Alicia Keys's Grammy-winning ballad, If I Ain't Got You.
But in just a little bit of history repeating, Syesha sang the same tune on the doomed ABC talent-show The One: The Making Of A Star.
The 20 year old from Sarasota, Fl., was a contestant on the 2006 reality show that was canceled after just four episodes due to disastrous ratings.
But before the ax fell, Syesha gave a sultry rendition of the Keys Billboard hit sitting on top of a grand piano.
This could be seen as quite a competitive advantage for the last woman standing, who is widely regarded as the long-shot for the Idol title.
One of her two fellow finalists, David Cook, looked less than thrilled when he received the news live on a local TV show that he would be singing the diva ballad First Time I Ever Saw Your Face.
Meanwhile, Syesha will be singing a song which is not only in the middle of what the judges would call "her comfort zone" but one that she has already performed on live TV!
<object width="425" height="355"><param name="movie" value="https://www.youtube.com/v/dS7C795bYp4&hl=en"></param><param name="wmode" value="transparent"></param><embed src="https://www.youtube.com/v/dS7C795bYp4&hl=en" type="application/x-shockwave-flash" wmode="transparent" width="425" height="355"></embed></object>