NEWS
SYTYCD's Jeanine Tells OK! Suri Got Dance Lessons from Contestants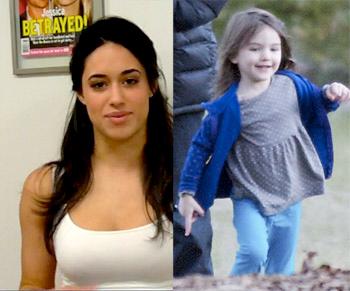 Now that Katie Holmes is a dancer — or at least she occasionally plays one on TV, it seems that Suri Cruise wants to follow in her mom's twinkle-toed foot steps.
So You Think You Can Dance's newest champ Jeanine Mason says that when the adorable toddler visited the rehearsals with her mom, she was eager to get a few lessons from the contestants.
"She was so excited!," said Jeanine when she stopped by the OK! offices on Tuesday. "We started rehearsing one of our group dances on stage, and Suri just walked up to the edge of the stage with a huge teddy bear in her arms and was watching us, just so intently — every step.
Article continues below advertisement
"She loved just every second of it."
And there was no shortage of experts ready to give her some pointers.
"She's a shy little girl but so sweet once she gets past that initial jolt of too many people," said Jeanine, who beat Brandon Bryant to win the show last week.
"It was a lot for her to take in, but as soon as she got past that she was having the time of her life watching us and imitating us. It was cute."
But it doesn't sound like Suri will be into the Judy Garland numbers like Katie: we hear she likes something a little more spicy.
"Suri was a huge fan of the Bollywood number that Jason Glover and Caitlin Kinney performed Week One," said Jeanine, "so she was so excited to meet them and she just ran up to Katie and whispered in her ear, 'That's the Bollywood people.'"
But critics weren't quite as smitten with Katie's performance of "Get Happy" as the contestants were of Suri.
But Jeanine doesn't think the haters were justified — and she should know: after all she is America's favorite dancer!
"Katie did such an amazing job — such a beautiful voice and she did that one fan kick in her dance and I was blown away by her flexibility. She did a great job and we were so happy to have her on set."
And while Jeanine was in the office, she recorded this shout-out to her fans: