NEWS
Take a Peek at Ke$ha's Brand New MTV Reality Series: 'Ke$ha: My Crazy Beautiful Life'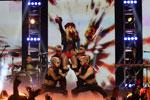 Ke$ha's theatrical performances, catchy songs and iconic outfit choices have left us speechless on many occasions. So speechless, in fact, that we truly wished we could get a closer, more detailed glimpse into her life! Now, thanks to MTV, we'll get to have that opportunity. Just like Jessica, Nick, Rev. Run and the Osbourne fam, the singer has landed her own reality TV show on MTV—Ke$ha: My Crazy Beautiful Life.
Article continues below advertisement
The show's title has you hooked, right? If you're excited for Ke$ha's TV debut, make sure you check out this new exclusive clip of her showing and tune in to MTV on April 23rd at 11 p.m. for the premiere!
Ke$ha: My Crazy Beautiful Life - Full Episodes
Will you watch Ke$ha's new show? Let us know and tweet your answers to @OKMagazine!
MORE VIDEOS YOU'LL LOVE: