NEWS
Tara Reid: "I'm Not Anorexic!"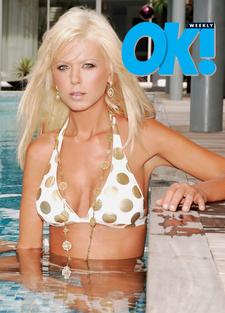 Even when she's not making movies, Tara Reid is making headlines. In recent weeks, tabloids have published photos of the suddenly slimmer actress, sparking rumors of an eating disorder.
"I'm not too thin," Tara, 32, insists in an exclusive interview and photo shoot in the new issue of OK!. "I go up 10 pounds, I go down 10 pounds."
Tara also points out that, no matter what shape she's in, she can't seem to please anyone. "I was thin for a movie that I just finished the upcoming horror film Vipers. Now they're going to see me and say I'm too fat because I've gained 10 pounds... I can't win!"
Article continues below advertisement
The actress also wants to let people know that she's not exactly the person the tabloids would have you believe she is. "I don't like going out every single night," she tells OK!. "I like to hang with friends and eat and sit next to a fire — that to me is the best night."
As for the constant criticism of her alleged party-girl lifestyle, Tara asks, "What have I ever really done? Dance on a table? Who doesn't drink with their friends and have a good time? I don't understand why people punish others for being happy.
"If I have a drink in my hand, it doesn't make me an alcoholic. If I want a glass of wine, I want a glass of wine. I shouldn't be afraid of it because of what the media might say. Anything you do, you're screwed. That's the lesson I've learned."
For the entire, unedited interview and poolside photo shoot, be sure to pick up the new issue of OK! — on newsstands everywhere Thursday.