NEWS
Tara Reid Stands Up to Critics by Posing Topless in Playboy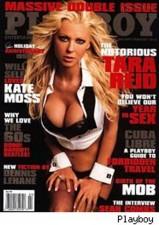 Tara Reid has been heckled in the past for her botched plastic surgery: From the liposuction to breast augmentation, the American Pie star has been avoiding the issue of her surgery gone wrong. Now, several corrective surgeries later, the 34-year-old actress is standing up for herself by posing topless in the January issue of Playboy. "It just wasn't that good of a surgery, it happens sometimes," Tara told New York's WPIX of her botched plastic surgeries.
Article continues below advertisement
"It didn't go well, and I got it fixed and now I'm okay and I want people to know I'm okay," she continued. "I've had it done for the last five or six years, but people only want to show the old pictures. It's so unfair.
"That's part of the reason why I did Playboy, to show people, 'Right, look at me. This is how I look now.'"
She said Playboy has wanted her to pose for years, but now she is comfortable and confident enough in her body to show it off.
"I've been offered it before in the past, but I really didn't feel it was the right time for me," Tara said. "I was younger, I'm in my 30s now and I just feel that I'm at the best age in my life mentally, physically, spiritually. I feel great and I'm proud of it. You know it's a hugely successful magazine and so many unbelievable stars have done it throughout the year I figured, 'Why not?'"
Tara made an analogy between her bad surgery and breaking a limb.
"I mean, it's like breaking your arm," she said. "I broke my arm and everyone knew about it, and then I got it fixed. And now my arm looks great! I think no one really wanted to think I got fixed, or that I'm better, but I am and everything in my life is better now."