NEWS
Tareq Salahi Thinks Michaele Salahi Left for Money: "Let's Keep the House Over Boobs"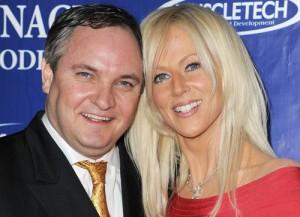 Tareq Salahi has "gone through so many emotions" since his wife Michaele Salahi left him for Journey guitarist Neal Schon and he thinks money may have been a reason why she left.
OK! NEWS: MIHCAELE SALAHI & NEAL SCHON SPEAK OUT ON THEIR "FAIRY TALE" ROMANCE
During a press conference for Celebrity Fight Night: An Alki David FilmOn Production, Tareq spoke to reporters about why he's getting involved in the fight and how he feels now after Michaele left him for Neal.
Article continues below advertisement
"After Michaele abandoned our home and our marriage, the house was just empty," he explained. "I think it's very good for the heart and the mind. I've gone through so many emotions from sadness and crying and just trying to understand what went wrong with the marriage and how she lived a double life."
And since Michaele left, Tareq says he hasn't spoke to her.
"No, just a completely total disrespect to our marriage," he said. "She does not talk about it, never heard from her about it, so no. The answer is no."
Article continues below advertisement
Who sent the photo?
"The rocker guy sent a picture of his penis. Well, that's why I'm fighting Jose. I'm fighting for anybody that's been cheated on," Tareq told reporters. "It's a disgraceful, disgusting thing that they've done. I mean Neal was married also, just in July. So, they've been cheating for two years, minimum. We know that for sure, maybe longer. We're going to find out."
OK! NEWS: MICHAELE SALAHI FOUND ALIVE & WELL...WITH GUITARIST FROM JOURNEY
But Tareq does think that Michaele may have left him for financial reasons.
"Yes, I think that played a part in it because here is the thing. We all have — in marriages, in relationships — we all have to talk about money and paying bills. So lets say there is a pot of money on this side. Well, Michaele would say, 'There is a pot of money over here, I want to go to plastic surgery on my lips and face and my boobs,' versus, 'Well we got to pay the mortgage!' I chose the house. If she is going to say that I am controlling then I will own up to that because if she is going to say I am controlling over the money, then yeah, lets keep the house over boobs. You know what I am saying? Am I right? It is what it is and I just got to move forward and start a new life."
And he doesn't think he could ever take her back after what she did.
" I will always love her and love her as a friend. I don't think I could because it was such a lie for years so I don't think we could reconcile that," Tareq explained. "If it was a fling, sure, we could go to therapy, but it was such a blatant lie and devious. Just total disrespect to the marriage."
Reporting By Gena Oppenheim