NEWS
Taylor Armstrong: "I Have to Get on With My Life at Some Point"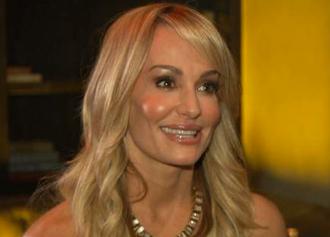 Taylor Armstrong has done a complete 180 since the death of her estranged husband Russell Armstrong this summer. The Real Housewives of Beverly Hills star has survived her grieving process and is looking forward to the future with a smile on her face.
In a candid interview with Access Hollywood — airing tonight — Taylor opens up about putting her life back together after Russell's tragic suicide in August.
Article continues below advertisement
"Day by day things are getting easier," Taylor told Access Hollywood's Shaun Robinson while on the set of Ciroc and Bravo's New Year's Eve commercial.
Taylor says she plans to make her first public red carpet appearance at the Ciroc/Bravo New Year's Eve event.
"It was something that I had decided to do a while before the tragedy occurred," Taylor explained. "I wanted to honor that commitment; it was important to me."
She added: "I do have to get on with my life at some point. At that point, it will have been quite some time. I feel like New Year's Eve is a time for new beginnings, and a time to set goals for the future. I think that's a good landmark for me."
Watch Taylor's full interview with Access Hollywood tonight.