NEWS
Taylor Armstrong Reveals She Didn't See Russell Armstrong's Dead Body: "I Wanted to Hug Him"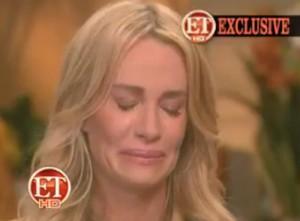 The conclusion of Taylor Armstrong's emotionally-charged interview with Entertainment Tonight aired Wednesday, and the Real Housewives of Beverly Hills star revealed details about the day of late husband Russell Armstrong's suicide.
"I did not see his body," she explained to ET's Nancy O'Dell. "And I'm sure a lot of people won't understand this... but I asked the emergency workers if I could go in and hug him before they took him away but they wouldn't let me.
Article continues below advertisement
She reiterated: "I just felt like I needed to see him one last time, but they wouldn't let me."
Taylor is still wearing her wedding ring as well as her late husband's ring.
"I'm now wearing his wedding ring and mine together," she shared. "Right now I'm still doing anything I can to figure out how to get close to him. I still have the last shirt he wore before the night of it and sometimes I sit in my closet with it because maybe I think I'm gonna get insight or maybe I just need to feel close to him."
Luckily, Taylor and Russell's five-year-old daughter Kennedy was not in the house when his body was discovered.
"Kennedy was (in the car) sitting on Julie's (Taylor's assistant's) lap pretending to steer and she said 'Julie, did my daddy do something dumb?' " Taylor explained.
Taylor also revealed how she broke the news to her young daughter.
Article continues below advertisement
"As I was laying in the street screaming, I realized that my little girl was there," she explains, fighting back tears. "And I had to pull it together to get her out of there. I just told her that daddy got sick and he died."
Taylor explains that she also told Kennedy she could talk to her dad daily.
"We could pick a star in the sky and it could be daddy, and that she could talk to him every night," she says.
Watch Taylor's interview HERE.