NEWS
Taylor Armstrong Says Russell Armstrong First Abused Her While She Was Pregnant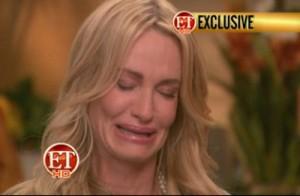 Taylor Armstrong is opening up for the first time about her abusive marriage to b in a very emotional interview with Entertainment Tonight. The Real Housewives of Beverly Hills star divulges everything about her tumultuous relationship with Russell and also talks about his tragic suicide, and how she and her five-year-old daughter Kennedy are grieving his loss.
"The first time he ever really harmed me physically, I was pregnant with Kennedy and he grabbed me by the throat and held me against a wall. ... I saw his ability to go from zero to 60 that quickly," Taylor tells ET.
Article continues below advertisement
Photos of Russell's last alleged attack against Taylor, resulting in a severe black eye, have circulated on the Internet, and she reveals that was his final attack against her.
"When I finally showed him the MRI he just put it down and started to cry," she says. "And I think it was him having to come to terms with the fact that this had gone on for too long and that this could've hurt me beyond what could've been repaired."
Nancy O'Dell also opens up about conducting the emotional interview with Taylor.
"When I sat down with Taylor, I found she is much more than her reality TV alter ego," she says. "She is smart and she is getting stronger. And despite the abuse, Taylor did, in fact, love Russell."
For Taylor's full interview, watch ET tonight. Catch a clip HERE.