NEWS
Taylor Armstrong Talks Late Husband Russell Armstrong's Alleged Abuse on 'Today'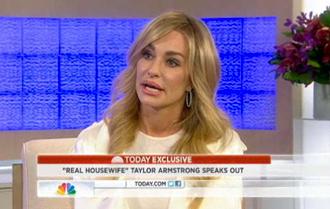 Now that Taylor Armstrong's book, Hiding From Reality, is out, the Real Housewives of Beverly Hills star is making the media rounds to promote it. Taylor stopped by the Today show this morning and discussed the alleged abuse from her late husband, Russell Armstrong, and why she decided to speak out.
OK! GALLERY: HAPPY HOUSEWIVES & HILTONS AT HOLLYWOOD PREMIERE OF BEVERLY HILLS
Russell committed suicide shortly before the second season of The Real Housewives of Beverly Hills. On the show, Taylor alleged that she was in an abusive relationship.
Article continues below advertisement
"The good times were the best I ever had. The worst times were the worst I have ever had," Taylor on Today explained of their relationship. "I went as far as taking a polygraph test just to try to prove to him that I never had an affair on him. He just had a constant paranoia. As they were unstrapping me from the polygraph test, I thought, 'Why am I taking a polygraph for someone that I love?' I was so desperate to keep it together that I would have gone to any extreme."
OK! NEWS: REAL HOUSEWIVES OF BEVERLY HILLS REUNION SPOILERS REVEALED!
Taylor admits she did have hesitations about writing about Russell's alleged abuse in her new book.
"I thought of that. What should I do? What's right? What's not? Those raw moments are what's going to allow me to make a conversation that could end up helping somebody else out there," Taylor said. "I got out way too late. I hope by others hearing the story they may get out sooner.
Article continues below advertisement
"When I wrote Hiding From Reality, I wanted it real and honest. Some of it was difficult to write. I love him to this day and miss him terribly."
As for Taylor's former sister-in-law's claims that she doesn't believe Russell's death was a suicide, Taylor says, "I don't feel his sister has much knowledge of what went on in our relationship. Last time I saw her, we had taken her out of rehab for meth.
"She had been a meth addict for about five years, and we were married for about six. I'm not sure she had her finger on the pulse of what was going on."
Watch a clip of Taylor's interview below.
Visit msnbc.com for breaking news, world news, and news about the economy