NEWS
Taylor Lautner on Brad Pitt Watching 'Shark Boy': "It's a Funny Thought"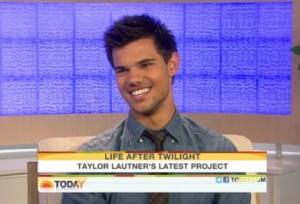 Taylor Lautner and Brad Pitt are going head-to-head in the box office this weekend with the opening of Abduction and Moneyball, but they're both big fans of each other's work. That being said, Taylor finds Brad's praise for his role in The Adventures of Shark Boy and Lava Girl a little funny.
OK! GALLERY: STARS SUPPORT TAYLOR LAUTNER AT ABDUCTION PREMIERE
" 'Taylor Lautner? Oh, I love that kid from Shark Boy,' " Ann Curry read a quote from Brad on Today this morning. "You're laughing because that's not your favorite film?" she asked.
Article continues below advertisement
"Yeah, you know, that movie typically is like for 10-year-olds, but I mean the visual of him sitting in front of his couch..." Taylor explained. "I'm sure you know his little kids enjoy it but it's pretty funny, it's a funny thought."
"Meantime the Twilight series," Ann said. "Are you ready for them to come to an end?"
"It is weird to think we're done filming completely. We'll be able to promote them together for the next year and a half or so," the actor said. "That's great. We have an awesome time together. We've become so close over the past four years, but it is a different feeling to know that we're done making them."