NEWS
Taylor Lautner Says Kristen Stewart Is "Pretty Hot" As a Vampire in 'Breaking Dawn'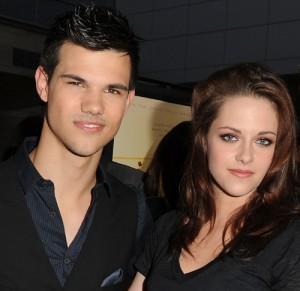 Taylor Lautner can't wait for Twi-hards to see The Twilight Saga: Breaking Dawn — Part 1! The 19-year-old hunk dished on the upcoming film, hitting the box office in November, and his attraction to co-star Kristen Stewart as a vampire.
"Bella is pretty hot as a vampire!" Taylor told Access Hollywood, via Celebuzz, adding. "Pretty hot, I've gotta admit it."
Article continues below advertisement
He also shared that this film does not compare to the rest.
"To be honest, I was blown away! It's going to be very exciting for the fans to see this one. It's the same characters, but in a completely different light."
In the trailer for the film, Bella is in a dangerous position as her fetus grows to strong, gravely affecting her health.
"It's crushing you from the inside out," a worried Edward (Robert Pattinson) tells her.
Rob recently shared with Premiere magazine that his on and off-screen girlfriend managed to scare him while filming the pregnancy scenes.
"There are scenes were Bella looks like an alien," Rob said of Kristen. "When the baby eats her from inside, she looks so thin and ghastly."
The Twilight Saga: Breaking Dawn — Part 1 hits theaters on Nov.18.