NEWS
Taylor Lautner Challenged to Push-Up Competition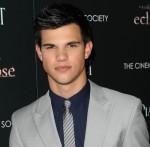 Twilight's muscle man Taylor Lautner has been challenged to a push-up competition to settle a lawsuit he's made against McMahon's RV. But Taylor won't be taking the bait.
OK! GALLERY: TAYLOR LAUTNER RIDES A CYCLE ON SET
Brent McMahon of McMahon's RV called a press conference on Monday in Irvine, Calif. where he challenged Taylor to a contest to settle the lawsuit, E! News reports.
"We at McMahon's understand that people are afraid of werewolves and vampires," McMahon. "My guys aren't."
Article continues below advertisement
OK! VIDEO: JACOB BLACK MEETS JUSTIN BIEBER IN PARODY SONG
Taylor issued a lawsuit against McMahon after a $300,000, 40-foot coach wasn't delivered by June 21 to the set of his newest film, Abduction, like he had ordered.
The coach was to be used as Taylor's dressing room and when it finally arrived the conditions were poor and caused Taylor "emotional distress" and "annoyance."
To settle the suit, Taylor's team said McMahon could donate $40,000 to charity, but instead they've decided to challenge the Twilight star.
Though McMahon denies any wrongdoing, he said he would write the check to the Children's Hospital of Orange County if he lost a push-up contest to Taylor.
OK! NEWS: TAYLOR LAUTNER STEELS SOME LOVE IN PITTSBURGH
But, of course, Taylor won't be doing any push-ups.
"McMahon RV's response to our client's legitimate claim further demonstrates the lack of professionalism that Mr. McMahon, his company, and his employees have exhibited from the outset, and that compelled the filing of this lawsuit in the first place," Taylor's lawyer Robert Barta said adding that Taylor did, "welcome the opportunity for him to resolve the matter by making a $40,000 donation to the charity of Mr. Lautner's choice."