NEWS
Taylor Lautner Says Kristen Stewart Trying to "Act All Tough" Was "Funny" to Watch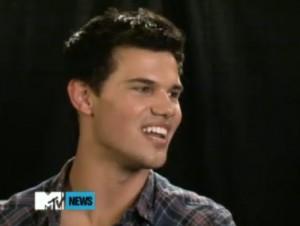 Taylor Lautner gets to see Kristen Stewart's tough side in The Twilight Saga: Breaking Dawn, but he had a hard time taking her seriously!
OK! NEWS: TAYLOR LAUTNER ON KISSING ABDUCTION CO-STAR LILY COLLINS — "IT WAS TOTALLY FINE"
MTV News had Taylor think of the most exciting scene to film in Breaking Dawn and Taylor had a tough time coming up with one initially.
"It's really hard to choose because we're filming two movies so we've been filming for five month," he said. "There's been so much we filmed."
Article continues below advertisement
But then he thought of a great scene with Kristen!
"Recently we did a scene in the backyard of the Cullen house where Bella (Kristen) gets mad at me," he explained. "She just learned that I imprinted on her daughter, and she is literally throwing me around the backyard. So it was pretty fun to see Kristen try and act all tough."
"She's a vampire; she's chucking me across the yard into trees and stuff," he explained. "It was funny."