NEWS
Taylor Lautner Talks 'Twilight' on 'Today'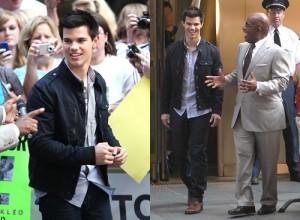 Taylor Lautner hopped off the plane at JFK last night to begin a trip to promote his film, The Twilight Saga: Eclipse in New York. First stop: Today. Taylor showed off his big smile as he talked with Today host Al Roker and was joined by Twi-hards in Rockefeller Plaza this morning. Eclipse will be hitting theaters this week, June 30, as if you didn't know already!
OK!'S ECLIPSE COUNTDOWN: FIVE FUN FACTS ABOUT TAYLOR LAUTNER
Article continues below advertisement
Taylor was then accompanied by Al to meet and greet his dedicated fans, who withstood the NYC heat to see the star! Some fans were even lucky enough to pose with Taylor for a photo-op!
OK! GALLERY: ROB, KRISTEN & TAYLOR TAKE THEIR LOVE TRIANGLE TO L.A. ECLIPSE PREMIERE
Then Taylor went into the studio to talk to anchor Matt Lauer about his involvement in the series and, of course, about those infamous abs! Unfortunately for fans, Taylor didn't show off his hot werewolf bod.