NEWS
Taylor Lautner Thinks It's Weird Dating Another Taylor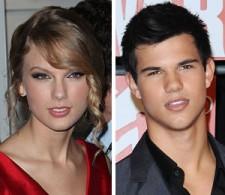 So we're not the only ones who think it's a little funny! New Moon's buffest, baddest werewolf Taylor Lautner admits that it's kinda weird dating Taylor Swift because they have the same name.
Taylor and Taylor are going to have to come up with some pet names!
"It gets confusing definitely," Taylor explained to Extra at a New Moon junket Friday. "And it's weird calling somebody your name."
In the fourth Twilight book Breaking Dawn, Taylor's werewolf character has a nude scene, but Taylor isn't too worried about it.
Article continues below advertisement
"I don't think the fans or the studio would be open to it, so I don't even really need to think about it," Taylor said and added that he's "just waiting to hear" even though the film has officially been announced.
CLICK HERE FOR ALL OF OK!'S NEW MOON PICS & STORIES!
It seems everything is going swimmingly for the new couple, as girl Taylor gave guy Taylor a wink and blew him a kiss during her opening monologue on Saturday Night Live, before appearing in a Frankenstein spoof of Twilight called FireLight.
In an interview last week with CMT Radio, Taylor said she thinks Taylor is "an amazing guy."
We think so too!