NEWS
Taylor Lautner on Twilight Sequel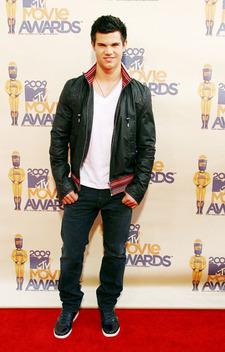 For those who have read the Twilight books, it's no surprise that the next movie to be made, New Moon, is going to involve some rough times for Bella and her vampire boyfriend, Edward.
Taylor Lautner, who beefed up to become a teen werewolf for the film, is already warning fans, telling Access Hollywood that "there is heartbreak and, oh it's horrible," adding that "New Moon will rip your heart to shreds. So get ready!"
Article continues below advertisement
Something Taylor wasn't quite ready for himself were the brutal conditions he had to face to play Jacob the werewolf during filming in Vanncouver.
"I was shirtless, all I was wearing was shorts. We were in 35-degree (2 degrees Celsius) weather," he said. "They poured rain on us, which is like ice cold. And the scene was like four minutes long and I'm just sitting there and you can't look cold. I'm the only one. I'm just standing there like basically naked with everybody like bundled up in this ice cold weather."
So, heartbreak and shirtless werewolves. Got it.