NEWS
Taylor Momsen: I Don't Want to be a Role Model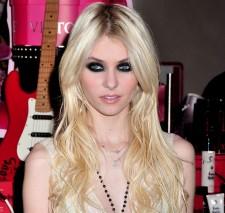 Gossip Girl actress, punk rock singer and party girl, Taylor Momsen, is far from being your average sweet sixteen-year-old. How does this effect her young fans? "I don't care," she pouts.
"I don't f****** care. I didn't get into this to be a role model. So I'm sorry if I'm influencing your kids in a way that you don't like, but I can't be responsible for their actions," she tells the UK's Sunday Times Style magazine.
Article continues below advertisement
Taylor, who recently got into hot water when she declared she was too busy to think about Haiti, was a child star who reached the final three for the lead role in Hannah Montana.
"Honestly, if I'd ended up as Hannah Montana, I don't know if the show would have gone as well," she says, "I probably would have told them all to go f*** themselves by the time I hit 11.
"And I don't know how that would have gone down. It's great for Miley Cyrus, but I really like where I am right now and I feel really fortunate to be able to really be myself."
Meanwhile, Taylor, who plays Jenny Humphrey on the hit CW show, gets a hard time from her fans' moms: "My favorite blogs are where you get the mothers saying, 'she's the worst influence on my daughter, I would never let my daughter dress like that,' she says, "or 'this girl's such a whore, she's a slut' and I'm like, you're a mother and I'm 16!"