NEWS
Taylor Momsen Not Kissing Chace Crawford Offscreen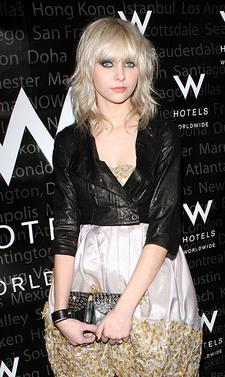 First Gossip Girl's Blake Lively and Penn Badgley took their onscreen chemistry to the real world and became a couple, and then Jessica Szohr and Ed Westwick started heating up as a real life twosome, so it's no wonder Taylor Momsen has been linked with her co-star, super hunky Chace Crawford.
But now the actress, who plays good-girl-gone-bad-gone-good-again Jenny Humphrey on the show, tells OK! there's nothing to the romantic buzz.
Article continues below advertisement
"No," she says when OK! asked recently during NYC Fashion Week if she's dating Chace. "It's great, because going to set we're all such good friends. And you know, rumors are rumors."
And even if she was dating someone, Taylor's not telling.
"It's not really priority in all honesty."
Really? A teenager uninterested in boys?
"No, because I love what I do right now. So dating isn't at the top of my agenda."
Replacing boys in her focus right now is her band, she explains, which is taking up most of her non GG time.
"My band and I recently signed a deal with Interscope," she reveals. "We're called The Reckless and we're going to be putting out an album this year so I've just been finishing it up. I write it all myself and sing and play guitar."
Who needs boys, anyway?
By Laura Lane