NEWS
Taylor Momsen Thanks 'Gossip Girl' & Says, "I Would Be Dead Without Music"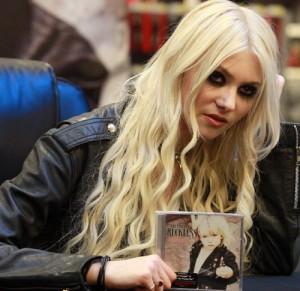 Taylor Momsen couldn't seem happier about her break from acting. Just four months after her breakup with Gossip Girl, she began a tour around Europe and the U.S. This week, she released her debut album Light Me Up with her band, The Pretty Reckless, in the U.S., after it created buzz and rave reviews in the UK.
OK! NEWS: TAYLOR MOMSEN PUT ON "INDEFINITE HIATUS" GOSSIP GIRL
"I've been writing songs since I was 5," she told OK! at the Music Unites In Tune music series in New York Wednesday night. "Acting is something I was put into and I enjoy it, but it's very much a job to me, whereas music is something I couldn't live without. I couldn't live without it. I would be dead without music."
Article continues below advertisement
Although it appeared things between Taylor and Gossip Girl ended awkwardly with rumors of her not getting along with the cast or a loss of focus, Taylor says she has no hard feelings about the indefinite hiatus from the show that made the 17-year-old child actress a household name among teen girls as Jenny Humphrey.
"I have to really thank them," Taylor told OK!. "I can't be in London and filming the show in New York. I mean, you just can't. I have to thank them for being very supportive of the band and the record and allowing me to tour and support it. But I mean, I'm a musician. I would consider myself a musician who also acts, not the other way around."
And as for if she missed the show at all?
"You know, Gossip Girl has been such a great ride and I've had such a great time filming the show, but I'm very happy," Taylor said.
It seemed like an overnight transition for her in 2009, when she shed her good-girl image and transformed into the thick-eyeliner-wearing, leather-clad, torn-stockings rocker she's become. Now, Taylor's being compared with another sexy rocker, Joan Jett, which is more than fine by her.
Article continues below advertisement
"It's absolutely cool," she says of the sex appeal comparison. "Everyone's going to have their own opinion about it. It's fine. That's what's so great about it. It's artistic, so everyone's allowed to like it, hate it, it's up to you, but give it a chance, you know?"
Music has played an integral part of her life, which is part of the reason she decided to make one of her first performances after her debut record was released for the Music Unites In Tune music series that benefits music education.
"Music is so important," she says. "It saved my life and continues to every day so I hope that these kids and teenagers can have that opportunity to educate themselves and that's really important."
Reporting By Jessica Summers