NEWS
Taylor Swift Breaks Billboard Record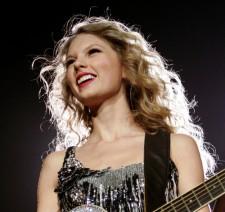 Taylor Swift might only be a teenager — she doesn't turn 20 until Dec. 13 — but already she's breaking music records: The crossover country star has nabbed the honor of having Billboard's longest charting album of this century with her debut, Taylor Swift.
Her self-titled first CD was released in October of 2006, when Taylor was just old enough for a driver's license. It's now on its 157th week on Billboard's Top 200 albums chart, passing up the record previously held by Nickelback.
Article continues below advertisement
CLICK HERE FOR ALL OF OK!'S TAYLOR SWIF T PICS & STORIES!
But that's not all — the songstress also holds the Billboard record for most Top 10 debuts in a calendar year, and is the only solo female act in the 44-year history of the Billboard Country Chart to score five Top 10 singles from a debut album.
Taylor will accomplish another big feat this Saturday when she acts as both the host and musical guest on Saturday Night Live. The last time a female country artist was both the host and performer was Dolly Parton, twenty years ago.
RECENT PICS OF TAYLOR SWIFT & TAYLOR LAUTNER!