NEWS
Taylor Swift Celebrates Notre Dame Win with Selena Gomez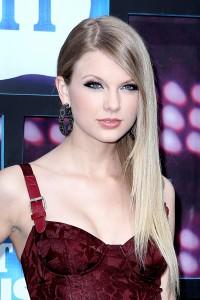 Taylor Swift paid a visit to her brother Austin in Indiana this weekend to catch the first Notre Dame game of the season and celebrated the teams' win with Selena Gomez at a local restaurant.
After the opening game, which Notre Dame won against the Purdue Boilermakers, Taylor took her younger brother and Selena for a bite to eat.
KANYE WEST'S APOLOGY SONG FOR TAYLOR SWIFT
"She had dinner after the game in a corner booth with two bodyguards blocking off the table at Rocco's in South Bend, Indiana," an eyewitness revealed to OK!.
Article continues below advertisement
When their meal was over, "Taylor, Selena and Taylor's brother were quickly escorted out between the two bodyguards to an awaiting car."
TAYLOR SWIFT IS "HORRIBLE," SAYS CHRIS ROBINSON
Taylor, 20, must have been in a good mood after the game since she took the time to talk to a fellow football fan.
"One excited ND fan shouted, 'I love you Taylor.' And Taylor, as sweet and sincere as ever, turned around and said, 'Aw, thank you!'"
Selena and Austin, on the other hand, weren't too excited about the crowd.
TAYLOR SWIFT PREMIERES HER "MINE" MUSIC VIDEO
"Her brother looked embarrassed and Selena was smiling while trying to hide under her baseball hat and hurry out," the eyewitness explained.
Notre Dame crushed the Boilermakers 23-12 on Saturday.