NEWS
Taylor Swift on CMA Honor: I'm Going to Freak Out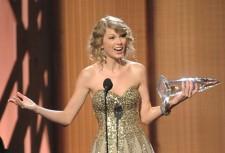 This is Taylor Swift's year. From topping the charts to hosting Saturday Night Live and dating Taylor Lautner, Taylor truly has the Midas touch. And last night, the singing sensation became the youngest artist to win the Entertainer of the Year title at the 43rd Annual CMA Awards in Nashville. How is the phenom going to beat that?
"Tonight, I'm just going to dance around with my band and my crew and my record label, and freak out," she told reporters at the Sommet Center on Wednesday.
Article continues below advertisement
"Because honestly I never imagined that the unattainable thing that I had always held in my mind, in my imagination, would happen to me at 19. I couldn't be more grateful, but I love a challenge. Right now, the challenge is to find my next challenge."
Taylor, swept all four categories, winning Album of the Year for Fearless, Female Vocalist of the Year and the Music Video of the Year for "Love Story".
But she made history as the first female in a decade to be crowned Entertainer of the Year (Shania Twain clinched the 1999 title). "I'll never forget this moment, because in this moment, everything that I have ever wanted has just happened to me," she told the audience in a tearful acceptance speech.
Meanwhile, CMA co-hosts Carrie Underwood and Brad Paisley sang a rendition of "Mamas Don't Let Your Babies Grow Up To Be Cowboys," with a mention of Taylor's VMA speech-interrupter, Kanye West.
Article continues below advertisement
"Mamas don't let your babies grow up to Kanye," they sang. "Let them pick guitars and drive them old trucks, 'cause cowboys have manners, they don't interrupt."
But Taylor refused to be drawn on the dig, saying, "I'm just excited to be at the CMA Awards. Aren't you excited to be at the CMA Awards? It's been a fun night."

Typically, Taylor put her success down to everyone around her. "Honestly, I owe so much of that entertainer of the year award to the people who set up that stage every night, and the people behind the scenes who are taking calls and sending emails and know how to work a fax machine."
With just a month left of 2009, what are the highlights of an amazing year? "I think about 37 minutes ago is what stands out most for me in my whole life. I didn't expect that I was going to win Entertainer of the Year, so I'm just at a loss for words. Absolutely," she gushed.
"Honestly, before tonight, SNL really stands out in my mind as one of those things that I'm really going to look back on if I have a bad day or anything like that because honestly, that was the coolest week of my life.
Article continues below advertisement
"I felt like I was part of such a tradition, and getting to make friends with the people who make me laugh every Saturday. That was something I'm never, ever going to forget. So Saturday Night Live, and then tonight was really fun for me."
But when OK! asked Taylor what her buff beau Taylor Lautner, 17, thought of her SNL Twilight parody, she became a little more guarded, "huh?" she replied knowingly. Did he enjoy the performance? We'll never know since "hmm," is all she'd say!
Now, how will this level-headed teen going to handle the success?
"I feel very lucky to have been able to experience this. In a way, I see this as having happened fast, but I also see that there was a gradual build. I've been able to attend several CMA Awards shows, so I know what this means.
"That's why I'm so at a loss for words right now," she added, "Addressing the pace of my career, I look at it from both ways. It feels like just yesterday I was knocking on doors in Nashville going 'hey, will you listen to my demo?'"
Article continues below advertisement
But this entertainer of the year isn't ready to count herself on the same level as the Nashville greats.
"It's honestly such an honor to know that Reba McEntire even knows my name, and Barbara Mandrell, and the people I've looked up to for so long. Reba has been so wonderful to me, as well as Faith Hill, who has been my idol.
"It's really something when you spend your whole life looking up to these women who stand on the stage and know how to wow a crowd, and make you want to be like them. When you actually get to be around them and realize that they're really as awesome as you thought they were, that's a really unique and special moment."
Reporting by Valerie Nome