NEWS
Taylor Swift Kisses,Tells... And Fans Can't Get Enough!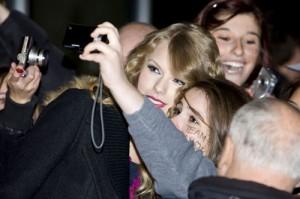 Taylor Swift's new album Speak Now features brutally honest songs about multiple exes and media scandals. With it, fans get a rare inside glance at the singer's life and they seem to like what they're seeing — or hearing, in this case! As Taylor left BBC Radio 2 in London on Wednesday, she was met by swarms of fans waiting in support of her.
Taylor had performed on the Simon Mayo show prior to snapping photos with fans. One of the girls Taylor posed with even had "Team Taylor" scrawled on her cheek.
Article continues below advertisement
OK! GALLERY: TAYLOR SWIFT'S FANCY FAMILY DINNER DATE
This is a very poignant phrase, since so many of Taylor's latest lyrics paint a few celebrities in a not-so-flattering light (we're looking at you, John Mayer). In addition to Hollywood's biggest playboy, it's rumored that some of her songs were also inspired by Joe Jonas, Taylor Lautner and Cory Monteith.
While Taylor's lyrical honesty has created some obstacles in her love life, making guys think twice about pursuing the blonde bombshell, it has also allowed fans to feel connected to her in a way that other contemporary love songs never really match.