NEWS
Taylor Swift Nabs 4 CMT Noms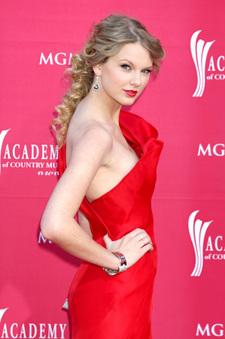 The race to the CMT Music Awards is heating up, as the final nominees have been announced. The announcements were made today by Kellie Pickler and CMT's Lance Smith during the 2009 CMT Music Awards Nomination Special. Fans can go online now and vote until June 15 to pick their favorites.
Country darling Taylor Swift swooped in to grab four nominations, and heartthrob Brad Paisley is also up for four awards. Sugarland leads the pack, however, with five nominations this year. Newcomers Lady Antebellum and favorites Rascal Flatts also picked up three nods.
Article continues below advertisement
"This has been a watershed year for country music," said Brian Philips, president of CMT, "And the fans have spoken! We'll mix an influx of strong new talent with performances by our enduring stars."
The awards will go live on June 16 on CMT, with performances byTaylor Swift, Trace Adkins, Dierks Bentley, Toby Keith, Brad Paisley, Rascal Flatts, Sugarland, Keith Urban and rockers Def Leppard.
The final nominees in each of the 2009 CMT MUSIC AWARDS categories include:
VIDEO OF THE YEAR
Trace Adkins - You're Gonna Miss This (Director: Peter Zavadil)
Kenny Chesney featuring The Wailers - Everybody Wants To Go To Heaven (Director: Shaun Silva)
Toby Keith - God Love Her (Director: Michael Salomon)
Kid Rock - All Summer Long (Director: Deaton Flanigen)
Lady Antebellum - Lookin' For A Good Time (Director: Chris Hicky)
Brad Paisley - Waitin' On A Woman (Directors: Jim Shea & Peter Tilden)
Article continues below advertisement
Rascal Flatts - Every Day (Director: Deaton Flanigen)
Sugarland - All I Want To Do (Director: Shaun Silva)
Taylor Swift - Love Story (Director: Trey Fanjoy)
Carrie Underwood - Just A Dream (Director: Roman White)
MALE VIDEO OF THE YEAR
Trace Adkins - You're Gonna Miss This
Toby Keith - God Love Her
Brad Paisley - Waitin' On A Woman
Keith Urban - Sweet Thing
FEMALE VIDEO OF THE YEAR
Miranda Lambert - More Like Her
Martina McBride - Ride
Kellie Pickler - Don't You Know You're Beautiful
Taylor Swift - Love Story
GROUP VIDEO OF THE YEAR
Lady Antebellum - Lookin' For A Good Time
Rascal Flatts - Bob That Head
Rascal Flatts - Every Day
Zac Brown Band Chicken Fried
DUO VIDEO OF THE YEAR
Brooks & Dunn - Put A Girl In It
Montgomery Gentry - Roll With Me
Sugarland - All I Want To Do
Sugarland - Already Gone
USA WEEKEND BREAKTHROUGH VIDEO OF THE YEAR
Article continues below advertisement
Julianne Hough - That Song In My Head
Jamey Johnson - In Color
Lady Antebellum - Lookin For A Good Time
Zac Brown Band - Chicken Fried
COLLABORATIVE VIDEO OF THE YEAR
Brooks & Dunn featuring Reba McEntire - Cowgirls Don't Cry
Kenny Chesney featuring The Wailers - Everybody Wants To Go To Heaven
Brad Paisley with Keith Urban - Start A Band
Sugarland featuring Little Big Town and Jake Owen - Life In A Northern Town
CMT PERFORMANCE OF THE YEAR
Alan Jackson featuring Dierks Bentley, Brad Paisley and George Strait - Country Boy from CMT Giants: Alan Jackson
Robert Plant and Alison Krauss - Gone Gone Gone (Done Moved On) from CMT Crossroads: Robert Plant and Allison Krauss
Sugarland featuring Little Big Town and Jake Owen - Life In A Northern Town from the 2008 CMT MUSIC AWARDS
Def Leppard and Taylor Swift - Photograph from CMT Crossroads: Def Leppard and Taylor Swift
Article continues below advertisement
WIDE OPEN COUNTRY VIDEO OF THE YEAR
Def Leppard and Taylor Swift - Photograph
Kid Rock - All Summer Long
Robert Plant and Alison Krauss - Please Read The Letter
Rehab featuring Hank Williams, Jr. - Bartender Song
VIDEO DIRECTOR OF THE YEAR
Deaton Flanigen (award eligible videos include: Kid Rocks All Summer Long and Rascal Flatts Every Day)
Trey Fanjoy (award eligible videos include: Taylor Swifts Love Story and George Straits Troubador)
Roman White (award eligible videos include: Carrie Underwood's Just a Dream and Reba McEntire's Every Other Weekend)
Peter Zavadil (award eligible videos include: Trace Adkins Youre Gonna Miss This and Joey + Rorys Cheater Cheater)
Have a news tip or great photo you want to tell us about? Shoot us an e-mail: tips@okmagazine.com