NEWS
Taylor Swift Raises Big Bucks for Tornado Victims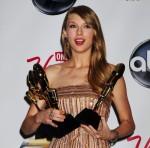 Less than two days ago Taylor Swift raked in several Billboard Music Awards but there's something else she's reveling in these days: Philanthropy. Taylor has already helped raise almost $1 million for tornado victims!
OK! VIDEO: WATCH TAYLOR SWIFT PERFORM "THE STORY OF US" ON ELLEN DEGENERES
Taylor told Access Hollywood about a rehearsal benefit show to drum up money for victims who were impacted by the recent wrath of Mother Nature. "It was so wonderful," she said. "It was almost like playing our first show because were playing for 13,000 people and it's the whole show the way we would do the last dress rehearsal and I'm just so excited that we got to raise $750,000 dollars for the victims of the tornadoes."
Article continues below advertisement