NEWS
Taylor Swift, Rascal Flatts, Sugarland Do CMA Music Festival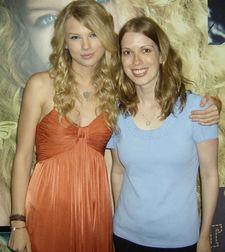 I jet down to Nashville for the CMA Music Festival, and am treated to four days of nonstop country royalty.
Taylor Swift, Kellie Pickler and Julianne Hough are announced as hosts of the ABC music special, which will air in September. The country cuties have become so close Julianne dubs them the "three musketeers."
What are the worst pick-up lines they've heard?
"Did you fall from heaven because you must be an angel?" Taylor recounts. "She gets 'will you teach me how to dance, Julianne?' Ballroom dance."
Article continues below advertisement
Julianne adds, "Mine's always 'did you drop something?' and it's their number."
Kellie pouts, "I don't ever get hit on. People just throw stuff at me. Nobody likes me."
How has fatherhood changed life for Rascal Flatts singer-guitarist Joe Doe Rooney? His son Jagger is a brand-new arrival.
"The baby was born four days ago, so I'm getting no sleep," he tells me. "It's amazing. It's definitely life-changing. Luckily I've got these two guys baby-sitting for me. Gary LeVox had a lot of experience raising his two kids, and me."
How will Jessica Simpson – who is on hand to promote her upcoming country album – fare in the genre? (This question turns Southern hospitality into Southern-fried tsks from reporters in the room for the rest of the fest -- um, rude? I'm just doing my job, y'all. Apparently, this is a hot-button, grudge-worthy issue. So weird! The drama even makes The Tennessean. )
"I always think it's wonderful when people push the margins a little bit and see what they can do," Sugarland's Jennifer Nettles tells me. "I think she might find it's a lot harder than you'd think."
Article continues below advertisement
Less controversial is Jewel, who looks forward to judging Nashville Star, which airs Mondays on NBC.
"I try to be the type of judge I would want if I was a contestant," she says. "It would make me upset if people gave me general advice like 'yo, you didn't bring it.' You know? I feel like they should be a little more specific. I don't know what to do with that when I go home tonight. I'll bring it next week. How? I'm competitive, and I don't want to do anything unless I'm going to try and be the best at it -- even if I can't win."
For more coverage of the CMA Music Festival, pick up the OK! on newsstands now. "Shiloh: I want my baby sisters!" is the cover line.