NEWS
Taylor Swift Reveals All About Her Upcoming Album: 'It's Time To Evolve and Try New Things'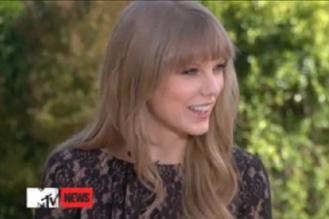 Taylor Swift never fails to impress her fans with her catchy tunes and heartfelt lyrics, but this time around, she's trying to delive deeper into the music-making process and take advice from top artists in the industry. 
"I made my last album, Speak Now, with this idea I really wanted to make an album without writing with anyone else, just because I always wanted to do that. And now I have a different approach to this record," Taylor told MTV News during MTV First: Taylor Swift, on which she debuted her video for her The Hunger Games track with The Civil Wars, "Safe and Sound." "I'm getting to work with people that I've always wanted to work with." 
Article continues below advertisement
OK! GALLERY: TAYLOR SWIFT AND RIHANNA STUN AT THE 2012 GRAMMY AWARDS, WHILE NICKI MINAJ AND FERGIE SHOCK! 
"I'm trying to be as much of a sponge as possible," she added. "You have to evolve and try new things and change, and that's what I've loved to do with this album."
Taylor admits she can't stop writing and re-writing her songs, something her producers are getting a little frustrated about. Why? Because they think the album is good enough as it is, while Taylor feels she needs to continue working on it until she has "zero time left" — because she's having so much fun!
So, what are all these songs about? Why, love of course — this is Taylor Swift we're talking about here!
"I think that love is always going to be a huge theme in what I write about just because there are no two similar relationships, there are no two times that you feel love the same way or hurt the same way or rejection the same way. It's all different, and I'm fascinated by that," Taylor explained. OK! VIDEO: WATCH TAYLOR SWIFT'S VIDEO FOR "SAFE AND SOUND" OFF THE HUNGER GAMES SOUNDTRACK  "I really love to go back to human interaction and the way we make each other feel. But that at 22 is different than it was at 18 or 19, when I made my last album, and 16 and 17 when I made Fearless. As you grow, you change in the way you process emotion." Are you excited to hear Taylor's new album?