NEWS
Taylor Swift Says She Hasn't "Confirmed" Her Songs Are About Ex-Boyfriends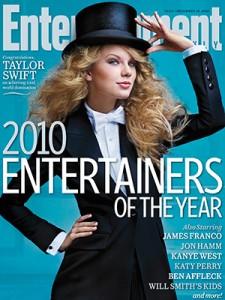 Taylor Swift knows how to sell an album. She's deciding to keep her fans guessing whether her songs are about her ex-boyfriends, which might be why Taylor was named one of Entertainment Weekly's "Entertainers of the Year."
OK! GALLERY: TAYLOR SWIFT INTRODUCES SPEAK NOW TO TODAY
Okay, so there are lots of other reasons why Taylor got the "Entertainer of the Year" title. She's won four Grammys, starred in Valentine's Day, performed for huge crowds at concerts and award shows and her third album, Speak Now, sold 1,047,000 units in the first week of sales!
Article continues below advertisement
At just 20-years-old, Taylor is the youngest-ever EW "Entertainer of the Year" since it started in 1990.
And one way Taylor is keeping her fans entertained is my causing speculation that her songs are about her ex-boyfriends like Taylor Lautner, Joe Jonas and John Mayer.
"Sometimes I would laugh because I would see it in print and it would say, 'This song, which is written about her ex, so-and-so…' And they would write about it as if it was fact. The fact is, I haven't ever confirmed that any song is about any particular person," Taylor tells EW. "There's something kind of freeing about that. As far as I'm concerned, it's all still up in the air."
OK! NEWS: TAYLOR SWIFT & JAKE GYLLENHAAL KEEP UP THE COFFEE DATES
So what about her performance of "Innocent" this year at the MTV Video Music Awards that seemed to definitely be about Kanye West?
"I had decided that I didn't want to perform on the show. Or even go," Taylor explains. "Then I woke up in the middle of the night and I realized that I had to, and that I wanted to perform that song."
Still, we can't wait for her next song that "may or may not be" about her current boyfriend Jake Gyllenhaal!