NEWS
Taylor Swift Says She's "Ridiculously Stupid" When She's "Really in Love"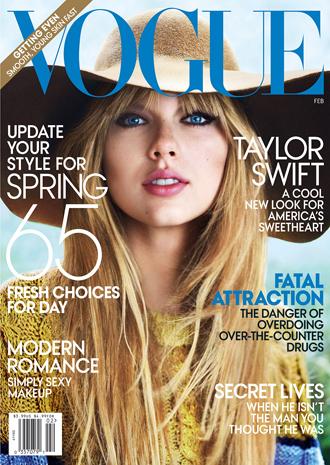 Taylor Swift has experienced enough heartbreak for awhile and is enjoying the single life. The 22-year-old country cutie is taking a break from dating but don't worry, she's got enough ammunition for a fourth album!
OK! NEWS: TAYLOR SWIFT IS SO 22 RIGHT NOW
The love song singer appropriately covers the February issue of Vogue magazine and opens up just a bit on her love life.
Taylor explains, "I think I am smart unless I am really, really in love, and then I am ridiculously stupid."
Article continues below advertisement
Um, best quote ever?
Taylor's most recent public breakup was from Jake Gyllenhaal around the Christmas Holidays in 2010. Before Jake, she publicly dated Joe Jonas, Taylor Lautner and John Mayer, whom she's written songs about!
OK! NEWS: TAYLOR SWIFT TWEEETS SINGLE TO THE HUNGER GAMES SOUNDTRACK
Next up may be a song about Jake. But currently, Taylor isn't dating.
"I got nothing going on! I just don't really feel like dating. I really have this great life right now, and I'm not sad and I'm not crying this Christmas, so I am really stoked about that."
Was she crying last Christmas? "I am not gonna go into it!" Taylor tells Vogue. "It's a sad story!"
Jake, you've got some explaining to do!
Also in Taylor's Vogue interview, she shares four of her relationship red flags.
"I can't deal with someone who's obsessed with privacy. People kind of care if there are two famous people dating. But no one cares that much," she explains. "If you care about privacy to the point where we need to dig a tunnel under this restaurant so that we can leave? I can't do that."
Sounds like she's learning a lot about what she wants!