NEWS
Taylor Swift Talks Hope, Heartbreak & Hotties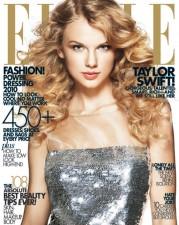 Taylor Swift is ELLE magazine's April cover girl yet, though she looks completely "fearless" on the cover, Taylor wouldn't exactly call herself that! The ever-stunning country singer opened up about her hopes, fears and her relationship, revealing lyrics and who she thinks is hot! Can you take a "wild" guess?
OK! NEWS: TAYLOR SWIFT WOOED BY BOYS LIKE GIRLS FRONTMAN
You may think Taylor is as "fearless," as her album and revealing song lyrics would suggest, but those songs weren't written spontaneously: Taylor gets her song materials from her romantic relationships.
Article continues below advertisement
"I like to categorize the various levels of heartbreak," she explains in her interview with ELLE. "I've only had that happen once. A letdown is worth a few songs. A heartbreak is worth a few albums."
OK! HOT GALLERY: TAYLOR SWIFT DRESSES UP TO GO DOWN UNDER
She may use her personal life to write songs because she's in control, otherwise she's very cautious.
"I overthink everything," Taylor admits. "I overanalyze everything."
But surely overthinking things probably isn't such a bad thing when you have the potential to be the spotlight of media scrutiny!
"I've had countless opportunities to do some really bad things," Taylor says. "And then people start combing through everything I do trying to find the next mistake and misperception, which leads to more scrutiny."
"Like, if I go to a bar, even if I'm not drinking, who's to say that a source isn't going to say that I was doing something I shouldn't have been doing?" she explains. "So it's not only about your own moral compass, but the moral compasses of other people that you don't know."
Article continues below advertisement
Who does Taylor find hot? Everyone's favorite shirtless Twilight werewolf!
"Um, well... Taylor Lautner," she confesses about her previous boyfriend.
OK! NEWS: KRISTEN STEWART'S OSCAR DATE? TAYLOR LAUTNER
Doesn't sound like the Twilight hottie will find himself in any of Taylor's heartbreak songs!