NEWS
Taylor Swift Tries Not to Get Nervous About Grammy Noms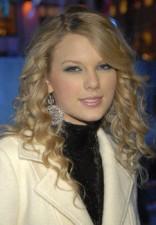 Country singer Taylor Swift won't lose any sleep over Grammy nominations, which take place at 8:30 a.m. PT Thursday.
"You can't control award shows," the Our Song crooner, who is announcing the results with Fergie, Akon, Vince Gill and Linkin Park, says. "I can control what I say, I can control how I act, I can control what I do on the stage, but I can't control awards shows, so I try not to get nervous about it."
Article continues below advertisement
The 18-year-old is grateful for the accolades she has received including CMA'S Horizon Award and a platinum-selling self-titled debut album.
"It's been a really amazing year," she says. "We had a lot of success at the CMAs this year. I won the Horizon Award, and that was amazing. I had so much fun there. If I got a Grammy nomination, it would be an amazing icing on the cake, but I'm not going to start crying and be all upset if I don't get nominated because it's been a really great year."