NEWS
Taylor Swift Upstages Kanye West in Billboard Charts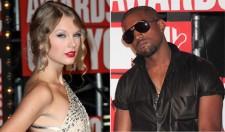 Wonder what Kanye West will have to say about this! Billboard magazine named Taylor Swift the top female artist and Kanye the top male artist of the year, the Associated Press reports. But, the country songstress was also awarded another title that Kanye may not like!
She was also named the top artist of year. And guess who came in second? That's right, Beyonce!
Taylor sold more than 4.5 million copies of her Fearless album.
Article continues below advertisement
Billboard runs its full list for both the 2009 and decades chart-toppers on Friday.
At least Taylor doesn't have to give a speech this time!