NEWS
Taylor Swift Wins Top Honor at CMTs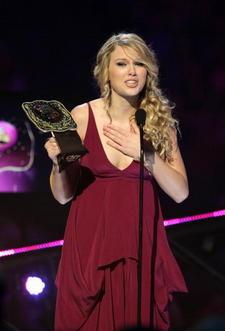 After losing out at the Grammys to Amy Winehouse for Best New Artist, it must have felt like sweet vindication last night to 18-year-old country crossover star Taylor Swift, as she took home two of the evening's biggest honors at the CMT Music Awards ceremony in Nashville.
"There's nothing that's more important to me than my fans and making them happy," said a thrilled Taylor, who was awarded the Female Video of the Year and Video of the Year trophies for her hit, "Our Song." "I never want to let them down. The fact that they would do this for me — would go so far and be so amazing... it's so unbelievable. I'm absolutely so flattered and humbled. I'm having the best night I can remember.
Article continues below advertisement
As for the song that propelled her into the winner's spotlight, Taylor explains, "I wrote 'Our Song' in ninth grade for a talent show, and never thought that it was going to be on an album, never thought I'd get to record it, never thought it would be a single, never thought it would go number one, and certainly never thought it would win."
The teen star also surprised a lot of people when she came out on stage twice without her shoes. But, Taylor says, she's got a good excuse. "I had these gorgeous hot pink heels on and they were really awesome but they really hurt so bad and I was limping up the stairs," she recalled after the show. "I walked past Faith Hill, and I was like, 'This hurts so bad.' And she was like, 'Take 'em off!' And so at that point, I just took off my shoes and did not put them back on for the rest of the night. I actually accepted an award barefoot and presented an award barefoot. But you know, Faith Hill told me to, so I did it."