NEWS
Taylor Swift & Zac Efron Play a Foster the People Guitar Duet for Ellen DeGeneres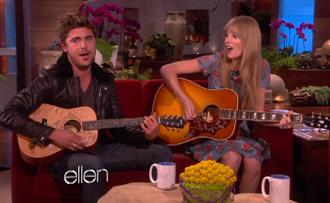 Article continues below advertisement
Rumors have been swirling that Taylor and Zac are dating. The fact that Taylor has been spending time with Zac, teaching him guitar, only makes the tales that much more believable — at least, Ellen seems to think so! The two demonstrated Zac's new abilities to Ellen: He struck one chord and Taylor squealed, "That sounds so good!"
"Only a girlfriend would react that quickly like that," Ellen joked on her show.
Taylor and Zac then started to play "Pumped Up Kicks," but changed the lyrics to be about Ellen.
"Ellen works a long day/ giving weird interviews in a slick cool sweater," Zac sings. "And it gets kind of weird/ Calling us out like we're boyfriend and girlfriend/ But it's not 'cuz we're just sitting here."
And for the chorus the two sang, "Every single time I come on this show it's really weird really weird all because of Ellen."
"I've been on this show/ eight times now and I still remember/ Ellen hiding in the bathroom/ With a hidden camera and she scared me so bad/ And I fell and I could have died," Taylor sings. "She always asks me who I'm dating every time I'm on this show/ And I don't even know why. But it gets 5 million hits on YouTube."
OK! GALLERY: TAYLOR SWIFT PERFORMS AT THE 2012 GRAMMY AWARDS
What do you think of their adorable duet? Do you hope they're dating in real life?